25 avril 2009
Bears in the Farmhouse - Fin
Et voici le top terminé des Ours dans la ferme proposés par Judy...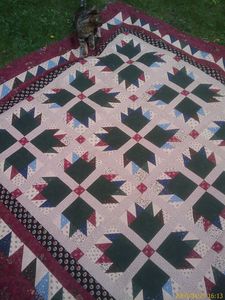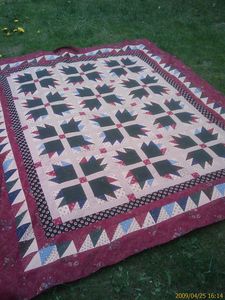 Plus qu'à quilter!

Thank youuuuuuuuuuu Judy ;o))

20 mars 2009
Bear in the Farmhouse 4
Et voici la 4° étape, les blocs sont assemblés et les 1ères bandes périphériques sont montées :
Here is step 4, very country style, I like it very much!
06 mars 2009
Bears in the Farmhouse 3 - fait!
Et voici mes 12 blocs de la 3° étape du Quiltalong finie. La suite des instructions mardi prochain!
Here are my 12 blocs for step 3.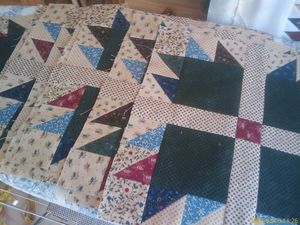 05 mars 2009
Bear in the Farmhouse 3
Voici la 3° étape en images :
d'abord, on coupe des bandes, puis des carrés pour les papattes :
Ensuite, on commence à assembler les griffes:
Suite au prochain épisode! N'oubliez pas d'aller chez Judy pour voir l'avancement des autres quilteuses!
Et pendant ce temps, mes 2 assistantes me soutiennent ;o))
22 février 2009
Step 2 on Bears in the Farmhouse
Voici la 2° étape des Bears in the Farmhouse (la 1ere étant le choix des tissus). 192 petits half square triangles de 2 pouces et demi de côté.


Here is step 2 of bears in the farmhouse. my 192 HST...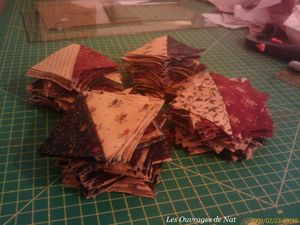 15 février 2009
Bears in the Farmhouse
Voila un "quilt along" qui commence chez Judy et auquel je vais participé...heuu je vais essayé de suivre !!
Ce n'est pas un quilt mystère: on connait le résultat, c'est plus histoire d'avancer en même temps, à plusieurs.
Voici donc les tissus que j'ai choisis: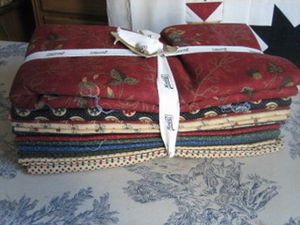 Ce sont des tissus Moda, de Kansas Troubles.
Judy le fait avec des rayures, mais moi je n'en ai pas, alors j'ai choisi des pois!


Here are my fabrics for the quilt along organised by Judy. She chose stripes but I don't have any in my stash so I chose dots...I had this stash of fabrics from Moda, Kansas Troubles, and I'm really happy to use them for the Bear in the Farmhouse quilt!